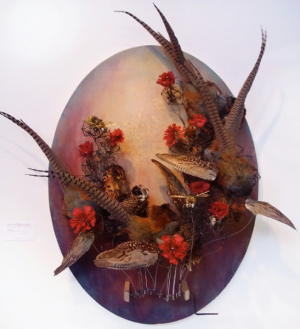 This week I visited BB pal Kirsten Anderson's wonderful
Roq La Rue Gallery
in Seattle where Casey Curran has hung a number of his exquisite kinetic sculptures. Each sculpture is a baroque ecosystem of wire plants, synthetic flowers, metallic creatures, faux feathers, and other ornate faux-naturalia. Gently crank the handle on each sculpture and these fantasy worlds come alive. At first I thought they would benefit from an electric motor but I quickly realized that cranking them myself not only made me a more active observer, but it required a physical proximity that immersed me in each surreal scene. You can glimpse still photos and videos of the show here: "
Casey Curran: Dissymmetry
" Also showing at the gallery is a series of beautifully dark paintings and drawings by Sam Wolfe Connelly, titled "
Nocturne
." Both exhibitions will be up through March 2.